Emjay is celebrating the arrival of autumn with a fresh harvest of new flower strains from premium brands. Now with Fresh Drops, you can find all of the newest products on the Emjay shelves in one place.
Dropping this week are limited edition gummies, a dreamy indica, a super-charged hybrid,  a great deal on a bulk buy, and a fall-flavored hybrid. Don't worry, it's not Pumpkin Spice. As always, you'll find our prices are the same or lower than dispensaries.
Grab them before they're gone: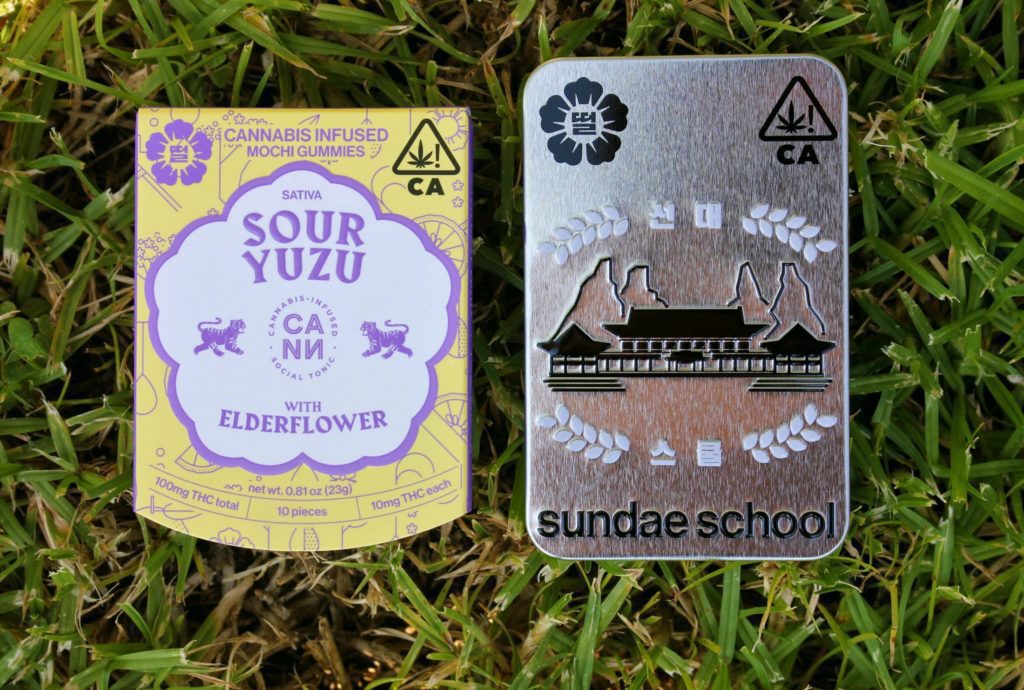 Sour Yuzu with Elderflower Gummies by Sundae School x CANN
Size: 10 gummies
Location: All locations
These limited edition gummies, made by hot stoner apparel company Sundae School in partnership with CANN, are vegan! They are made with mochi, a Japanese rice flour candy, instead of gelatin. The sharp citrus flavor is elevated with the botanical elderflower, turning these gummies into a true treat for a sophisticated palate. And at 10 pieces with each piece containing 10mg THC, you're certainly getting bang for your buck. Buy the other child of this temporary union, Yuzu Elderflower CANN, while you're at it (and while we still have it) and read our review of the newest CANN offering.
Size: 1/8 oz
Location: all locations
October is a little early for snow, especially down here in SoCal, but forecasters are predicting Snow Dream will take the Golden State by storm. With almost 28% THC, this indica is deeply calming and relaxing. A Golden State prides itself on growing and cultivating flower for the connoisseur. Fun fact: their flower is watered with snowmelt from Mt. Shasta. All that natural goodness is evident from one whiff of a Snow Dream bud: despite the name, fresh summer grass and citrus waft off each nug.
Size: 1/8 oz
Location: Los Angeles and San Diego ONLY
Everything about this strain will have you going "daaaaaaammmmn:" the insanely high THC (37%), the insanely low price ($48), the close-up high-def shots of the crystal-coated buds. And Maven Genetics is a partner with The Last Prisoner Project, which works to free those imprisoned for cannabis charges? So you can feel good about feeling good after smoking really good weed? It's too much! But if you can handle it, check out our in-depth review of Midnight Snack.
Size: 1/2 oz
Location: Los Angeles only
This is the kind of deal that makes you think someone must have made a mistake. That's a typo, right? No, it's not. This is a half ounce of primo weed with over 30% THC…for $130. C-NOTE is a versatile, relaxed hybrid that delivers a calm and serene happiness and mild body high. Whether you need to buy a large amount of flower for a party, your week-long off-grid camping trip, or because you just smoke a lot: frankly, you would be a moron to pass on this one. 
Size: 1/8 oz
Location: all locations
Move over, pumpkin spice. Caramel Apple will always be the superior Flavor of Fall, especially when it comes with almost 27% THC. This gourmet flower from A Golden State can deliver the perfect late-afternoon pick me up with it's uplifting high filled with creative energy. The stress-relieving body high will help melt away the bad energy of that 10am Zoom meeting you were in earlier. And like all A Golden State flower, Caramel Apple was watered by melted snow from Mt. Shasta, imbuing the buds with the flavorful essence of nature. 
Size: ⅛ oz
Location: Los Angeles and San Diego ONLY
This limited edition strain will fly off our shelves like a bat out of hell. No one keeps Black Slush for long. A sweet flavored strain that is the perfect cap to a hard week at work, Black Slush is cultivated by Seven Leaves by crossing OGKB x OG Kush. When the high sets in, your body will relax while your mind remains uplifted and with a positive mindset. We recommend pairing this strain with a comedy and your couch.
Size: 7 grams
Location: Los Angeles and San Diego ONLY
Zruntz Smalls are part of the Runtz family, which is really having a moment ever since Leafly named Runtz the 2020 strain of the year. You have to be some good weed to be the best weed during a global pandemic. Zruntz is a crossed strain that is bred by using Zkittlez and Gelato #33 and is incredibly rare to find on the market. At ~25% THC, it's an accessible strain for both novice and veteran smokers, both of whom can enjoy the relaxing body high that keeps the mind alert and cheerful.
Size: ⅛ oz
Location: All locations (LA, SD, and San Francisco)
Tyson Ranch knows they have a good thing going with their original creation The Toad. And rather than rest on their laurels, they keep getting back in the ring (kind of like a certain founder and namesake of theirs, hm?) and hitting us with a new, crazier Toad. West Coast Toad, a cross of Sunset Sherbet, Motorbreath, and GMO, dials the heat up from the original Toad with a slightly spicy and sharp taste. It has 36.31% THC—this one is for use by professional stoners only.
Size: ⅛ oz
Location: Los Angeles and San Diego ONLY
Source operates with this one guiding principle: to only grow cannabis that they would want to smoke. We can confidently say the good folks at Source only want to smoke dank and delicious weed. Lavender Sky, green buds covered in a beautiful blanket of purple and silver, is a superb indica-dominant strain offering a pristinely relaxing high—like taking in the dusky evening sky over Lake Tahoe. A cross of Grape Pie x Animal Cookies, the 29.08 THC percentage will take you to the harvest moon and back.
Size: ½ oz
Location: Los Angeles and San Diego ONLY
Source's potent sativa-dominant hybrid, Nigerian Silk, is the perfect wake and bake strain for experienced stoners who still want to get shit done with their day. The smell is earthy and not overpowering, while the taste finishes with a little bit of pepper. Whether you need the energy to finish building your new apartment furniture or to power through a work project that's dangerously close to its deadline, Nigerian Silk will give you the high you're seeking. You can stay focused and alert but be warned: with a THC percentage above 32%, you will definitely be feeling it.
Enter your address at heyemjay.com or on the Emjay app to see which of our Fresh Drops are available for delivery to you. And if you miss out this week, don't freak out: newer, fresher drops are sure to come next week!