When it comes to cannabis-infused desserts, Kiva sets the gold standard. Or maybe green standard? 
Since 2010, at the very start of the legal cannabis market, Scott Palmer and Kristin Knoblich Palmer, partners in cannabusiness and in life, have been perfecting the area of dessert edibles for a refined palate. No Sour Patch Kids knock-offs here: Kiva uses the same techniques and natural ingredients that gourmet chocolatiers and confectioners use to make non-infused desserts. Their high standards for the quality of their candy also extend to their cannabis supply, which is all locally sourced. As one of the first edible companies to self-impose strict standards for potency and consistency, their products can always be relied upon for accurate dosage and purity.
Though Kiva debuted as a chocolate company, they now have a few confectionary options for the discerning stoner with a sweet tooth: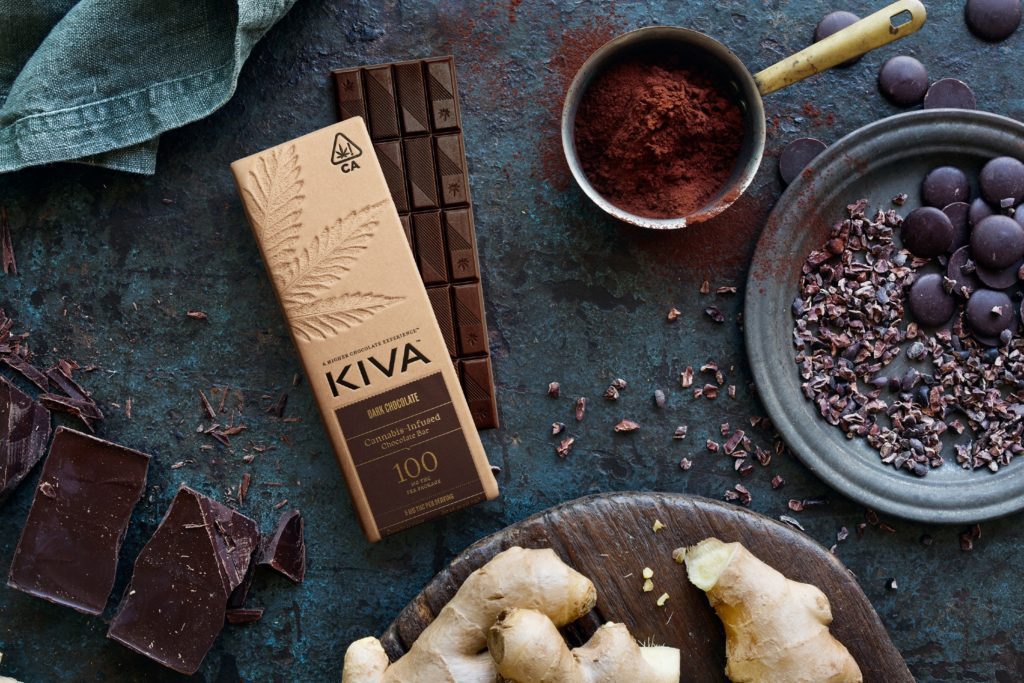 Kiva chocolate bars
The OG chocolate bar line still holds up since 2010, when it was first hailed as the Lindt bar of the cannabis industry. Originally just contained to Milk and Dark, the bars line now includes toffee, peppermint bark, and a couple CBD-only options. Every bar is made with sustainably sourced cacao (gotta protect those rainforests) and cold water hash that captures the full spectrum of the cannabis plant. Trust us, Kiva chocolate bars are not only a superb edible but also one of the best chocolate bars ever. It is legitimately hard to force oneself to eat these one square at a time instead of shoving the whole bar down at once.
Terra chocolate bites
Seemingly in answer to the original Kiva chocolate bar's overpowering temptation, Kiva developed a new chocolate treat for people who are trying to stop themselves from eating whole chocolate bars full of weed. Terra bites, each containing 5mg THC, are made with the same chocolate as Kiva bars, but in bite-size form. They're sold in a resealable container, which does make it easier to not eat them all at once. But only a little easier. The chocolate-covered Terra bites are available in blueberry, espresso bean, almond, sea salt caramel, and milk and cookies.
Petra mints
Definitely the most discreet edible on the market, Petra is Kiva's line of cannabis-infused breath mints. Each mint contains only 2.5 % THC (excluding the CBD/CBN mints) and comes in an easily portable tin. Just pop a mint or two to get started and top yourself up throughout the day, finding your perfect level. Microdosing literally couldn't be easier. And don't worry, only one of the flavors is actually "mint." Petra also comes in Cinnamon, Blackberry, Citrus, Pineapple, and Tart Cherry.
Camino gummies
While some elder stoners are still bewildered by the gummies craze, no cannabis user who remembers eating Scooby Doo Fruit Snacks by the handful at school lunch can seem to pass up edible gummies. While many confectioners choose to model their gummies on beloved candy brands, Kiva saw the opening for something a little more…grown up. Camino gummies are inspired by California's own El Camino Real road, which winds through a variety of breathtaking scenery between San Diego and San Francisco, from desert to mountain. Camino gummies aim to inspire the same sense of discovery and wonder with unique flavors like Pineapple Habanero or Sparkling Pear, and the well-balanced high that comes with each precisely dosed gummy. Plus, the packaging is very pretty.
Lost Farm live resin gummies and chews
Kiva's newest product line is Lost Farm, a collection of gummies and fruit chews made with strain-specific live resin. The live resin process, where a whole cannabis plant is flash-frozen directly after harvest and converted to resin without being cured, preserves a fuller spectrum of the plant's cannabinoid and terpene profile. And because only one strain is used to create the live resin, Lost Farm users can select a treat to match their mood or needs more easily. Lost Farm is not for the faint of heart: each chew or gummy contains 10mg THC, double what Kiva usually doses their edibles. But again Kiva shows their amazing flavor comprehension, with mouthwatering options like Chili Mango and Juicy Peach.

Enter your address at heyemjay.com to see which Kiva products we can deliver to you. We always have prices that are the same or lower than the dispensary, and we never charge a delivery fee. So what are you waiting for, a golden ticket?